Happy New Year!
I'm still not used to refer to 2011 as the current year and when I speak of last year I have in mind 2009. It's good that people around me bring me back to reality :)
I hope you spent a lovely weekend with fun and tasty food.
We went to Wisconsin Dells with some friends to celebrate the New Year's Eve. It's a nice place especially if you have kids, there are so many activities for them. But even without children you can enjoy the many pools with waves or lazy rivers. It was so enjoyable to get rid of the many layers of thick, warm clothes and spend time only in the swimming suit.
But now we're back to our cold Minnesota and it's time to bundle back up. We have two or three more winter months ahead of us- if you ask me the nastiest moths of the year! I don't mind the freezing cold or snow in December - the holiday atmosphere makes it bearable. But now....argh
On a freezing day like today, for instance, you can use some wrist warmers. Right?
I saw this pair of wrist warmers in the Burda magazine and fell in love with them. I wish I remember how to knit because I suppose they aren't too difficult to make.
Anyway I found another way to make some: I refashioned a pair of socks.
Choose some plain socks, with no Nike or any sign on them.
Cut the foot part from the rest of the sock.
Sew the ribbon along the raw edge of the sock right sides together. Use a zig-zag stitch to prevent the sock from fraying.
Fold in the edge of the sock and sew along the edge. Add three little buttons on each wrist warmer.
Here is a variation with wavy edges and a fabric flower only on one side - some asymmetry will make them look more appealing.


This is my first creation for the Project ReStyle organized by A Beautiful Mess.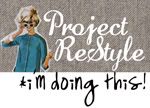 featured on: